This is a quick introduction to the first ever National Ultimate Youth Camp at Surat, India.
The Ultimate Camp at Surat is the first of its kind in India. It's a gathering of about 130 adolescents and 30 coaches for 5 days. These are Beginner to Intermediate level players and they've come from all across the country with no universal language for communication. These campers are going to be split into teams of 10 with 2 coaches to facilitate. The camp covers the basic skills and strategy needed to play structured ultimate, like throwing, cutting, vertical stack, Defensive skills and handler movement.
That said, I'm Sangeetha, a master coach at this program and I hope to share with you guys a little bit of our world over the next 5 days leading up to the conclusive tournament.
My day started with a 6.30am flight that we almost missed that got our adrenalin pumping, to Mumbai. Our connect to Surat was a whole 4 hour wait. We finally got out of Surat Airport at about 2.00pm to spot a bunch of colourful Discrafts being waved. A super excited Chiai (Program Director) with her injured leg in a 'Robocop' cast starts limping fast to the exit to find some kids from the team 'Jumbish'. 'Jumbish' is a surat based team, from a government run school, with whom Manix (Program Director) and Chiai played with a couple of months ago at the Mumbai Tournament where this Youth Camp idea originated.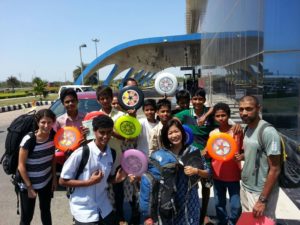 After a super heavy lunch, we got some time off to play pick up in the evening. The teachers and admin staff of FountainHead School joined the pick up, where the camp is being hosted, they all play on a team called Surat Trail Blazers. Pick up was a spirited event with distractions from the Principal's kid Anvika, whose cone stacking ability and baby-talk most of us away.
After an amazing dinner of Pav Bhaji, we got some real work done towards the Youth camp. We had to spilt out coaches with regard to skill level, number of training sessions they attended, personal development skills and boy/girl ratio. We were interrupted by Matt Hill's arrival. He's the Director of Youth for Ultimate Australia, and a friend of Dan and Jess. Dan and Jess during their time in Chennai helped us structure the curriculum for the this program and the ideology. We spoke to him for sometime and it ended with him showing off his Hula Hooping skills. We are staying in classrooms and our accommodation has its perks like Air Conditioning and Hula Hoops.
Full of excitement and waiting on our Outstation coaches and the first set campers to arrive tomorrow, Id like to do a quick shout out to Fountain Head School for hosting us, all the kids and their parents for their participation and consent. UPAI, Help to Grow for it's involvement and the people who invested time and money in this Youth Camp. Finally Liz Haynes, Manix Narayan and Uraguchi Chiai, Program Directors, for driving this home.