Today was the power pools which means that there are 2 pools of 6 teams and the top 4 from each pool go into quarter finals tomorrow. Our goal at the beginning of the tournament was to hold seed which means 10th but we felt like we had a shot at making quarter finals.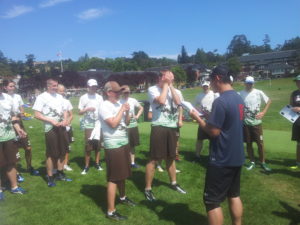 Our first game was against MuD, a team from Waterloo who was ranked 4th and who had gone 3-0 on day 1. We started off slow and gave up some breaks. Personally I made a few errors that I shouldn't have made. I'm finding the first few games for me were learning about how to throw to people again since so much of what I do is either about pure distance and power or it's about finesse and not really throwing to people. What was great about this first game for us is that they were the best team we faced today so as much as wanted to win the game, we knew that in order to make the quarter finals tomorrow, we had to win 2 games, which we were planning on for in our second and third game. However, at one point, MuD was leading 10-7 and our D line stepped up HUGE with 6 breaks to bring the game to 13-10. There was a weird atmosphere in our huddle when MuD called a timeout and I heard someone say something like "we won this game". They thought the cap had gone I guess but once they said that, I had a bad feeling. Sure enough, they answered back with 5 straight points to win the game 15-13. We certainly made en0ugh mistakes in the final few points that had we tightened up, we could have closed out the game, but overall, we were very happy with how we played, especially with our D line stepping up and bringing the game back.
Our second game was against Wreckhouse, the team from Newfoundland and they were ranked 5th. We didn't know much about them and although I had talked to a few of them in the past through email and facebook, I was surprised to see them here since no other maritime team made the trip out. Regardless, we were in control pretty much the whole game. We once again started a bit slow and I made a few ill timed throws. I'm finding I rush my throw when I see a guy open and someone is marking me. The timing each throw started feeling better and better and I knew it was just a matter of time before I felt my timing was back. What was also great in this game is after a few bad hucks, one of our ladies called me aside and had a few words of wisdom for me. She basically told me that they weren't a big hucking team and that they were used to working it up the field. I was feeling like a lot of players were striking for me when I got the disc since they know I can put it and I felt somewhat obligated to make the throw. After her talk, I made a conscious effort to not huck unless it was really there, to try and use the handlers more and to try and be more patient. It paid off and our D once again played huge. There was an unfortunate point in the game where I threw to one of our ladies at the very front of the endzone. One of the Wreckhouse players was poaching and knocked her down just as she caught the disc. It was a pretty rough collision and she dropped the disc. There was some discussion that ensued and the unfortunate part about all of it is that there was no doubt at all that he fouled her but in the end, he contested the foul. He cannot dispute that he went through her so I was somewhat choked that he contested it. There was another guy on the field who was saying she dropped it before he hit her, which was absolutely not true. It really surprised me but luckily our lady was ok. I ended up scoring the point a little bit later and spiked the disc in frustration/happiness that we had scored. Some words were exchanged between both teams but we were both able to calm down and finish the game, with the final score being 14-10 for us.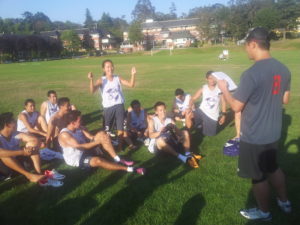 Our third and final game was against a team from Vancouver called Power Pack, whose average age was something like 19.5 years from what we were told. They were a smaller team than the first 2 games but they were young and fired up. We traded points for a bit but we started to find our groove and closed them out 15-7. A few neat things in this game was that a bunch of the guys on the team came up to be at the beginning of the game and asked "Are you Ultimate Rob"? It was pretty neat being recognized by some fans so I appreciated them giving me some props for my videos and articles. Also, one of the players on Power Pack had some huge pulls. I literally haven't been impressed by pulls like that since I saw Mike Grant from Furious George pull years ago when he was still playing. He can work on his edge a bit but his pulls were both high and long which is the perfect combo for a pull.
I also randomly saw a older guy throwing some MTA's so I went over and gave him some tips and we even threw a few together. It's always great talking to someone about frisbee.
Anyway, based on our 2 wins and 1 loss, we finished 4th in our pool and qualified for the semi finals tomorrow! We are playing Odyssee, the #1 ranked team from Quebec tomorrow. Our goal is to upset but if not, we are still in the playoffs for 5th place which will be huge. But also, by qualifying for quarters, it means that we've definitely beat our seed!
My phone isn't working right now so I won't be able to post any updates until tomorrow evening when we're back at the hotel but I wanted to thank everyone again for the support and wishes of good luck!
And especially thanks to my sponsor Horizon Heating for making this trip possible!